Operations Management Assignments
Introduction
The objective of this report is to identify a key operations management issue in not for profit organisation in Melbourne Victoria by the name 'Eastern Volunteers'. The report identifies the current issues which the not for profit organisation is facing and provides recommendations to bring upon a change in the same by the virtue of recommendations that are included in the report.
The report begins with a brief background information of the not for profit organisation and then moves on to discuss the internal environment of the not for profit organisation. Further, the concepts of the operations management has been applied to gain a deeper understanding of the specific issues which the not for profit organisation is facing in the contemporary times. The last parts of the report provide a set of recommendations which can be used by the organisation to overcome the identified shortcoming. The report ends with a brief conclusion that ties the contents of the report together (Berry 1992).
Background Information of the Company
Eastern Volunteers was originally incorporate in the year 1976 under the name Volunteers unlimited. There primary objective is to provide transportation services to the old aged, needy and disabled people especially in those areas where public transport is relatively weaker. These parts include the outer suburbs of Melbourne and other areas.
Specific Operational Issue
The main operations issue that the not for profit organisation "Eastern Volunteers" is facing relates to creation of a schedule that allows them to ferry more service users per trip. This is more significant because the organisation is limited by funds and also the number of volunteers, drivers and vehicles are fixed and hence a judicious use of the resources is desirable. Although, the organisation deals in providing a number of other activities as well, this report only discusses the transport service and the related issues for the purpose of simplicity (Whitford 1998).
Flow Chart of the Operations of the Organisation
Situation Analysis of the Operations in the organisation.The main issue that concerns the organisation relates to the fact that they are limited by the number of vehicles, the number of drivers and also the number of volunteers that make up the staff. As an example, if a service transport request is made from Burwood to Hawthorn on 7th Dec 2013 at 11:30 am and another request is made from Box Hill to West Richmond at 1:00pm, then the management can potentially plan a common vehicle to address both the needs at the same trip. It might involve requesting one of the clients to adjust their timing slightly, but can offer and result in savings for Eastern Volunteers as a whole. Another added advantage of this implementation is the fact that service users build up their own network by meeting different people which one may assume that they would appreciate. Also, there is a greater possibility of increasing the word of mouth publicity for Eastern Volunteers.
Opportunities to change the current operations in the organisation
The opportunity for eastern volunteers lies in ensuring that there is a better mechanism of fulfilling the service request. One of the possible measures is to use dedicated software which would automatically detect the best possible route and timings given the service request of a particular day. On the contrary, an organisation like Eastern Volunteers will have to carefully work out the cost structure to use dedicated software like that. The current situation demands a manual schedule which provides them almost the same benefit which the expensive dedicated software would provide (Grönroos 2001).
Resources to be utilised for improving the current operations
Eastern Volunteers need a dedicated volunteer who would be carefully planning the service requests for transportation for the users on a daily basis. As stated above, the organisation would ultimately like to move to use a state of the art technological tool to serve this purpose. However, given the financial constraints, the company would not be able to afford such a tool, but they would certainly like to make use of that in the future.
Technology and Human Resource Issues
The section above denotes the need of the human resource and the technology. Both the types of resources are desirable for the not for profit organisation. However, the plan of action would to start with the manual system first to overcome the identified shortcoming and then move on to the technology phase at a later stage (Varey 1995).
Application of the Operations Management Issue
The above identified issue is applied to the five main performance objectives of operations management:
Performance objective of operations management
| | |
| --- | --- |
| Speed: | The resolution to the above identified issue would increase the level of efficiency of Eastern Volunteer services and will also reduce the time per request. Hence, performance is likely to be improved by a proper resolution is achieved. |
| Flexibility: | The issue discussed above involves a great degree of flexibility as the plans of the service users can never be anticipated or planned. The management would always have to be pro active to be able to manage adequately. |
| Dependability: | The trust of the service users is directly contingent upon the quality of the service they receive. Hence, the service users are depending upon Eastern Volunteers in order to avail their respective services. |
| Quality: | It has to be ensured that in order to save on two trips, the quality of the service experience is not affected. The volunteer drivers must not show assigns of panic that they are in a hurry to take the other service user as well from another location. Thus, everything should be planned in a comprehensive manner and in the case of a service user not agreeing to share the vehicle; it should not be forced upon him or her. |
| Costs: | The primary objective of providing a resolution to this issue is the fact that it will result in saving extra costs involved for the organisation. Hence, it is directly related to improving the performance of the organisation (Eastern Volunteers 2013) |
Changes to performance and outcome
The changes would be to make aware the service that they are encouraged to book a service request at least two to three days in advance so that the management and operations team are in a much better position to plan the trip and the visit properly. Also, the change would include ensuring that no close service requests are left unattended by the management and the operations team. Also, as 'Eastern Volunteers' grow, there would be a required change to increase the number of volunteers, volunteer drivers and the number of vehicles as that would be the need of the hour (McQuire 1999).
Recommended improvements
The number of service requests made in the last six months would be analysed to judge the number of service requests in the coming days. Although, the accurate number of service requests cannot be known, the analysis of the last six months can provide a fair idea. Also, a dedicated professional is desired by 'Eastern Volunteers' who would essentially look after managing the service requests of the upcoming latest requests of the new service users.
Cost Structure
The current costs involved for 'Eastern Volunteers' pertaining only to the transport services accumulates to monthly expenditure of 2000 AUD. This structure does not have any provision for adjusting for two service request at the same time as is proposed in the current report. Although, it would difficult to estimate by how much the same can be reduced. The organisation would like to target spending 1400 AUD monthly. That would result in savings of 7200 AUD annually which the organisation can use in other marketing endeavours and promotion of the organisation (Eastern Volunteers 2013).
Recommendations
A number of changes are recommended in this report which can be utilised by the management and operations team both to improve the service quality offering of the organisation and also to address the specific issue at hand which is highlighted in the report.
Ø Covering two service requests at the cost of one, especially those request which lie in close proximities.
Ø Hiring or using the service of a dedicated professional who would only be responsible for managing the service requests by using a dedicated city map on a daily basis (Greene 1994).
Ø Using the manual system initially and then using a modernised technological method to address the issue at hand.
Conclusion
This report highlights the importance of effectively addressing and dealing with a operations management issue confronting an organisation. The concepts that has been applied are specifically related to the not for profit organisation 'Eastern Volunteers'. It has been learnt by the virtue of this report that an organisation needs to be highly proactive while anticipating the concerns which the company might face. There is also a need to assess carefully the identified shortcoming so that the efficiency of the organisation can be improved in an overall manner.
References
Berry, LL & Parasuraman, A 1992, 'Services marketing starts from within', Marketing Management, Winter, pp. 25–34.
Eastern Volunteers 2013 , 'Welcome to Eastern Volunteers', About Us, Eastern volunteers retrieved from http://www.easternvolunteers.org.au/about/ Accessed 10th Dec 2013.
Greene, WE, Walls, GD & Schrest, LJ 1994, 'Internal marketing: The key to external marketing success', Journal of Services Marketing, vol. 8, no. 4, pp. 5–13.
Grönroos, C 2001, 'Managing internal marketing: A prerequisite for successfully managing customer relationships', in Service Management and Marketing: A Customer Relationship Management Approach, 2nd edn, John Wiley & Sons, Chichester, pp. 330–55.
McQuire, L 1999, Australian services marketing and management, Macmillan Education Australia, Melbourne.
Varey, RJ 1995, 'Internal marketing: A review and some interdisciplinary research challenges', International Journal of Service Industry Management, vol. 6, no. 1, pp. 40–63.
Whitford, B 1998, Customer Service Excellence: How Organisations in Australia Are Exceeding Customer Expectations, Beaumont Publishing House, Subiaco, WA.
www.sampleassignment.com
Our assignment help experts are committed to help you with your assignments, research, theses, homework, dissertations and projects in all important subjects like Science, Math, Finance, Accounting, Programming, HRM and everything else that encompasses academic support. Feel free to send your queries or orders to info@sampleassignment.com. We help you achieve your study course with our exclusive customized services and guidance.
Operations Management Assignment Help Online
Operation assignment help is an important management academic writing service of Australia's No 1 operations management writing services. Operation is a significant part of management that deals with the designing, controlling, organizing and administration of the production process of goods or services. Operations management is essentially carried out with an aim to perform efficient utilization of minimum resources to meet optimum customer requirements. Management of the processes that converts raw materials, energy, time, labor into quality production of goods and services is regarded as Operations. Operations assignment help provides you with help on everything related to operations management.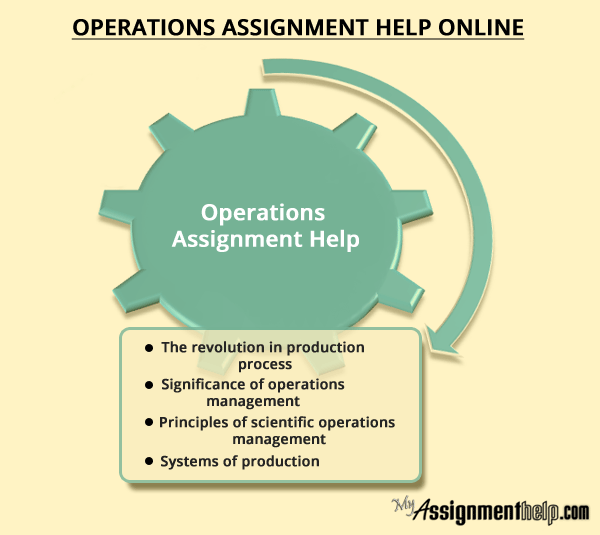 Revolution in production process
Operations assignment help gives a complete picture of the production process. There was a time when production was done through craft guilds and domestic systems. In domestic system, merchandisers used to place materials to artisans at home for in-house production of goods. Whereas, in craft guilds, a group of artisans relayed their raw materials to various shops in order to accomplish their desire products. With the advancement in technology, there has been immense transformation in production system. In present scenario, there is no existence of manual production, rather the entire manufacturing process is machine driven. For more on this, get our operations assignment help.
Significance of Operations Management
For students needing operations assignment help, understanding the significance of operations management is crucial.
Operations management of a firm relates to the supervision of its technical and physical functions. Operations management assignment help provides complete guide on this process.
Manufacturing, quality control and development processes are mainly concerned with operations
The principles of operation management include manufacturing, process of production, factory management, process of equipment maintenance, control of production, industrial relations with labor, proficient trade supervision, programs of strategic management, process analysis, evaluation of productivity, cost control programs, planning of materials etc. For more on principles of operation management get our operations management assignment help.
Operation is an engineering process that blends science with art
Operations management is incomplete without skilled workers, creativity, technological awareness and rationality. For more on this, trust our operations management assignment help.
Principles of Scientific Operations Management
Our operations management writing services provides the best operations assignment help on the principles of scientific operations management. The theory of scientific management proposed by Fredrick Taylor aims to analyze and evaluate the rate of workflow. The main objectives of Taylor's proposition are to improve labor productivity and economic efficiency. Moreover, Taylor classified scientific management in the following divisions:
Development of feasible technology
Selection of workers scientifically
Skills and knowledge of workers are enhanced through scientific education
Effective communication and cooperation between management and workers. More on Taylor's contribution can be found with our excellent operations assignment help.
Systems of Production
The production system represents both the organizational approach and technological elements. Our operations management assignment experts explain this process. An efficient production system can be accomplished by using adequate techniques, tools and machineries well blend with appropriate distribution of labor and information.
Moreover, production system is sub-divided into continuous production process and discrete process of production. Our operations assignment help experts explain the difference.
1. Continuous Production Process
It is a free flow production process in which the materials are processed and manufactured without any interruptions. The bulk materials either in dry or fluid state are continuously processed with chemical reactions, mechanical procedure and heat treatment. Continuous process is mainly to manufacturing batch products. Examples of continuous production process are chemicals, oil refining, fertilizers, blast furnaces, casting of steel etc. For more information on continuous production process, get our operations assignment help.
2. Discrete Production Process
In this process, products are manufactured individually in separate unit production. The unit production is mainly categorized as low volume production with high complexity or high volume production with low complexity. The combination of low volume high complexity production unit gives rise to quality products with timely introduction to market while minimizing the production cost. Examples of discrete production are electronics goods, computer and technological accessories, appliances, cars, household items, airplanes, socket, cables, PVC display etc. Log on to MyAssignmenthelp.com for more on operations assignment help.
Operations Management Metrics
The operations strategy of an organization involves the policy plotting to effectively use the productive resources with an objective to develop sustainable competitive advantage in the industry. Our operations management assignment experts explain operations management metrics which is broadly classified into two:
1. Efficiency Metrics
Productivity - Evaluation of ratio between input and output is considered as the standard metric of efficiency. Productivity considers wide ranging determinants of efficiency metrics such as workforce productivity, warehouse productivity, raw material productivity, machine productivity etc. For productivity get our operations assignment help.
OEE (Overall equipment effectiveness) - It refers to the development of products between cycle time efficiency, system availability at a quality rate. In an inclined manufacturing approach, the tool of OEE is used as a key performance indicator in concurrence. For OEE help, get our operations assignment help
ABC analysis - It is the process to evaluate the efficiency of revenue inventory. It state that, the revenue generating items on inventory are not required to segment according to its position, since they are interrelated to the revenue generation of other significant items. For more on ABC analysis get operations assignment help.
Throughput - It defines the number of goods produced in unit time. It is a quantifiable variable majorly used in mass production. For further help get operations assignment help.
2. Effectiveness Metrics
Operations assignment help offers operations management writing services on effectiveness metrics. This matrix involves the following as its determinant:
Quality - Manufacturing of high quality products by using minimum resources in compliance with all necessary product specifications
Price - The cost of production should be less than the market value set for the particular product. This cost of production involves purchase price of raw materials, manufacturing cost, maintenance cost, cost to upgrade and cost of disposal
Time – It considers the time to growth, product lead time, time to product maturity
Flexibility - Volume of production , rate of complexity, availability of stock, etc
Green impact - Minimum carbon footprint and negligible negative impact on environment. For more on operations assignment help get our services.
Importance of Operations Management in Academics
Operations Management is a specialization in MBA that essentially considers the concept of production as well as operations taking place in an organization. Our operations assignment help is ready to provide you with help on all the areas of operations management.
The learning module of MBA, according to our operations management assignment experts, is mainly divided into the following study fields:
Manufacturing operations
Service operations
The two significant classifications encompasses all important chapters of operations such as planning, organizing, controlling and allocation of operations, design-oriented operational activities, clear comprehension of the operational functions, etc. We provide operations assignment help on both.
Moreover, learners who aim to flourish themselves as a successful entrepreneur or want to acquire a position of operations manager can opt for this attractive specialization in MBA. This course is entirely focused on business students and executives facilitating them with the opportunity to explore the depth of management studies. Students with bachelors' degree can easily opt for this stream irrespective of their subject background. However, to excel in business management, our operations assignment help is necessary.
Why is it difficult to Accomplish Operations Management Assignments?
Students who are less attentive in mathematics or statistics do not need to worry about the subject as the operations management module does not include higher level complex calculus. However, the course itself has many composite areas that make students go haywire. The analytical models involved in operations management are derived from the Simulation paradigm of discrete event. The model of transaction level is another complex paradigm that considers evaluation of complex network resources respective to codes. In order to achieve desired grades in operations management assignments, students has to be well- versed with the concept of input and output, inventory resources, quality management and quality control processes.
To be very precise, only a few academic lectures would be inadequate to grasp the whole of operations management, unless the student has some practical experience. Thus, it can be concluded that a complete and presentable assignment on operations management can be accomplished through operations management assignment help.
Get help from MyAssignmenthelp.com
MyAssignmenthelp.com boasts of being the only operations assignment help provider which has PhD experts specialized in every subject. Appeal to us with any kind of management subjects; our operations management assignment writers are ready to serve you with multiple solutions. The assignments on operations management are dealt with intricate research work on operations, optimized solution to operational flaws by using mathematical and programming theories. If the analytical models are not apt for the specified assignments, our writers switch on to more complex forms of simulation to design an attractive set of assignments.
You will get baggage full of facilities in MyAssignmenthelp.com once you are a part of our client base. We have an exclusive option of online live chat where students can discuss all their assignment queries directly with our writers. The best part is students can connect with our operations management assignment experts at any time feasible to them. We are open 24 hours, seven days in a week for your assistance.
Hurry; get a fully referenced 100 percent authentic operations assignment help material on operations management now!!